Trawling Through St. Augustine's History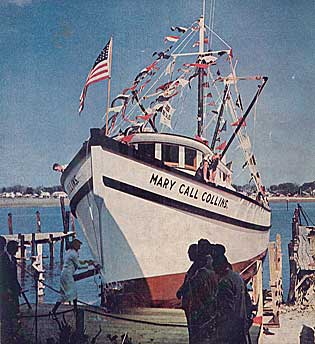 Plodding up and down the coast with their outstretched arms, the shrimp trawler has become a seaside icon throughout the southern Atlantic and Gulf coasts. Painters, poets, writers, and musicians have recorded shrimp trawlers to feed our nostalgic interest in harvesting the sea, but little has been done to record the history of shrimping, the boats, and the families who built and operated them.
St. Augustine doesn't claim to be the birthplace of modern shrimping. Fernandina, Florida, has that title, but for much of the 20th century St. Augustine was the shrimp boat capital of the country. Commercial shrimping began during the first decade of the 20th century and grew steadily into a vibrant and profitable industry by the 1930s. Greek families moving into Florida from the Dodecanese Islands brought with them boatbuilding traditions first associated with sponge fishing in places like Tarpon Springs.
It didn't take long before Greek-influenced hull types spread out and into other communities and types of fishing. The Tiliakos and Deonas families in Fernandina began building modern trawlers starting around 1920; by the 1930s builders in St. Augustine were launching shrimp trawlers. These pre-WWII boats were fairly small compared to today's trawlers and most were less than 55 feet long. The nets they pulled were hand-made and some boats didn't even have a winch to get the loaded net back on board - sheer muscle had to fight the heavy bags of shrimp onto a pitching deck.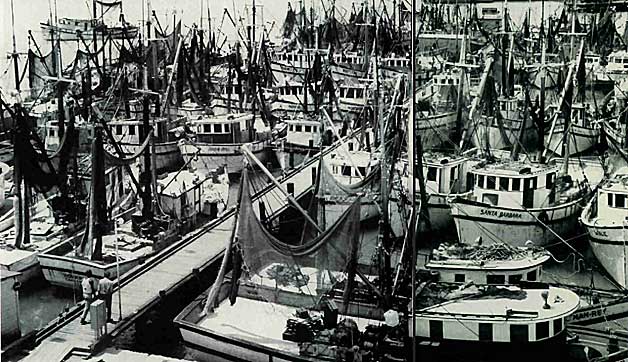 As with many other types of industry, World War II brought major change to the shrimp fishery. Large diesel engines, generator sets, synthetic lines, and other machinery needed aboard trawlers became widely available after the war but it was during 1943 that a boatbuilding revolution began. Diesel Engine Sales Company, known as DESCO, was to trawler building what Ford Motor Company was to automobiles. DESCO's "Henry Ford" was a man named L.C. Ringhaver. Ringhaver took control of the company and used his connections to the Caterpillar company to mate St. Augustine boats with Cat's big diesel engines and a production line-style of building. In April of 1957 DESCO launched its 600th boat, Mary Call Collins.
The San Sebastian River, slinking from behind downtown St. Augustine to a quiet convergence with the Intracoastal, was ground zero for the trawler boom and many builders lined its muddy banks. Harry Xynides, representing one of the many family builders, first started building trawlers right on the river bank and would slide them through the mud to launch, using another trawler to coax them into the water.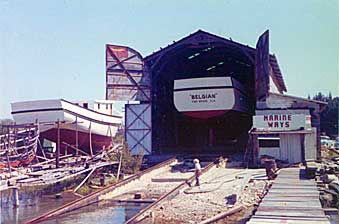 Success in boatbuilding, as with other families, afforded Mr. Xynides a yard with a modern railway, building shed, and a secondary marine ways for repair. These family builders produced some of the finest wooden fishing boats ever made and names like Sarris, Xynides, Pterudis, Tsangaris, Kymos, and Nix went proudly to sea with them. St. Augustine Trawlers opened their doors right across the river from DESCO and became the second trawler factory, focusing on building multiple boats with short delivery times and specializing in fleet production.
The 1950s were momentous for shrimping. New fishing grounds were discovered in Florida Bay that offered some of the richest returns yet seen in commercial fishing. Key West became a bustling port and its population more than doubled during the mid-1950s as a direct result of the influx of trawlers. Secondly, the Campeche grounds, off Mexico's Yucatan peninsula, poured money into shrimp boat owner's pockets. New trawlers could be paid for in just a couple of successful trips. Disputes with Mexican shrimpers in 'Camp Peachy' during later years sometimes led to trawlers returning to dock with rifle bullets embedded in their hulls.
The late 1960s introduced fiberglass into the trawler industry and a few yards also launched some steel-hulled boats. But wood persevered and some of the last trawlers launched in town were 100-ton wooden trawlers planked with pine and framed from oak.
St. Augustine left a profound mark on the world of commercial fishing. DESCO's motto was The Sun Never Sets on a DESCO Trawler, and they were right. Shrimp boats built in St. Augustine went all over the world, starting the commercial fishery in Ghana, Africa, and even were bought by fishermen in New Zealand. By the late-1980s, when trawler building slowed down to a trickle, St. Augustine had launched nearly 4,000 trawlers. Wooden boat historian Rusty Fleetwood called it "the largest number of purpose-built wooden craft ever built."
Bayou la Batre, Alabama, now outstrips all other ports in newly launched shrimp boat tonnage. Ask any shrimper, though, and he will know all about St. Augustine boats. Here at the St. Augustine Lighthouse and Museum we are working to document this unique history. Every week one more wooden shrimp boat goes to its grave and a once-proud fleet is diminishing to a pile of splinters and rust. The next time you dive on a shrimp boat wreck, remember that it may have started its life on the First Coast!
Author Brendan Burke is an archaeologist with the Lighthouse Archaeological Maritime Program, based at the St. Augustine Lighthouse and Museum. With a BA in history and anthropology from Longwood University and an MA in anthropology from William and Mary, Brendan has been working with LAMP since 2007 to explore and document the maritime history of our nation's oldest port. If you are interested in learning more, please visit: www.LAMPmaritime.org or www.staugustinelighthouse.org.