JVC Picsio Shines
This past fall we told you about the JVC Picsio FM-1, a deck-of-cards-size, eight-megapixel still camera that also happens to be a 1080p, HD video camera as well. Packaged with a compact housing from Ikelite, this miniature wonder was one of the hits of the past DEMA Show. And, with a suggested retail of just $460, it's no wonder why. We've been playing with the Picsio for several months now, and would like to share — both visually and verbally — what we have discovered.
The Camera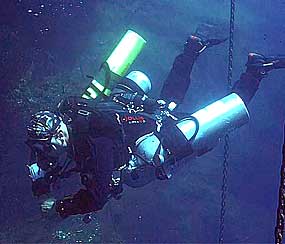 Situated in the same product category as the Flip and other miniature video cameras, the Picsio is, indeed, barely bigger than a deck of cards. It shoots video in 1080p, 720p HD, as well as 640 by 480 standard definition. In photo mode, it functions as an eight-megapixel still camera. Users can equip the Picsio with a variety of SD and SDHC memory cards, enabling them to store hundred of still images, or up to two or more hours of high-definition video.
Obviously, given the camera's small size and under-$200 street price, the feature set is limited, and it can't compete with pricier models for video quality. Still, for the money, it is an excellent value. CNET.com offered a generally good review of the camera and its features, taking it to task only for its hard-to-use buttons and less-than-stellar software. See complete review.
One problem common to all micro camcorders is that it can be difficult to hold the camera steady — a limitation you will see evident in the surface shots in the accompanying video. Putting the camera on a tripod helps solve these problems, but negates the value of having a camcorder that fits in your pocket. Under water, this is much less of an issue.
The Housing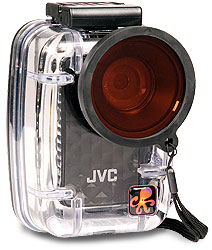 Ikelite offers the Picsio housing by itself or in a package with the camera. The housing is small enough that it may fit in a large BC or drysuit thigh pocket — or, by attaching a snap, you can simply clip it off to your harness. Ironically, the well-designed buttons on the back of the housing mitigate one of the camera's biggest limitations, the hard-to-use buttons on the camera itself. Like the camera, the housing is easy to understand and use, and the buttons allow you access to all camera functions.
Accessories
We use our Picsio housing in conjunction with Ikelite's W-20 wide-angle lens. The lens improves apparent visibility, increases depth of field and is a good idea if you like people shots. At $300 (plus an adapter), however, the lens substantially increases the overall package price, and may make considering a higher-quality unit a good idea.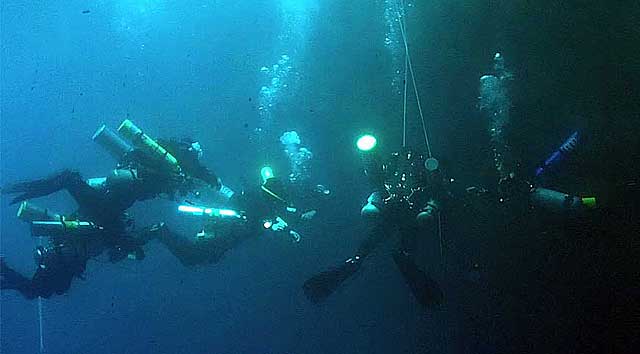 Ikelite also sells a $250 Pro V8 LED video light. This is good for shooting in low-light situations, or if you like close-ups of fish and critters. Its one limitation is the relatively narrow angle of acceptance, resulting in a center-weighted hot spot. This is likely to be a problem only if you use the wide-angle lens and, when compared with the cost of any other video-lighting solution, it's a helluva bargain.
If you get the video light, you will probably want to get the accessory tray and arm as well. You can read more about the camera, housing and accessories on Ikelite's website.
The Images
The images you see accompanying this article were all shot at Commercial Diving Academy's (CDA's) 40 Fathom Grotto. Once berated for its less-than-perfect visibility, a recently-installed recirculation and filtration system has resulted in visibility that can easily approach 100 feet.
The first video documents CDA commercial diving students undergoing their open-circuit check out dives. The second video, as well as the accompanying still images, are of technical diving instructor (and Florida DEP Diving Safety Officer) Jeff Loflin teaching a group of Tec Deep students — all of whom are wearing sidemount and deco bottles.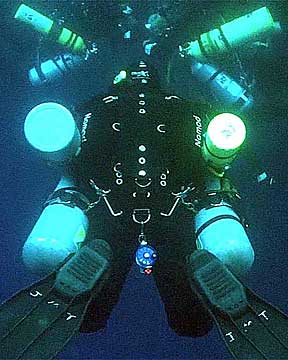 All of the images (including those shot 120 feet down) were taken using just the stock housing and wide angle lens. We illuminated a few of the deeper shots with a Dive Rite HID 1000 exploration light with the reflector set on wide. For the most part, however, no external lighting was needed, even at depth.
The Bottom Line
As we said in our November article, the Picsio represents just how much underwater imaging has changed in the past few years. It blurs the line between stills and video, at a price any diver can afford.
Diving is meant to be shared. Tools like this make it possible. Perhaps the Picsio can be your ticket to immortality on You Tube.